By: Gabrielle Donati
Note: Unfortunately, due to costs, the Paleo Market has moved to Latrun, but it's still totally worth the 40 minute trip to experience the market in the nature of the Jerusalem Hills.
Ever wonder what it would be like to eat like a caveman? You're not the only one. The Paleo dietary movement has taken root in Western society and true to form, Israel is at the forefront with Tel Aviv adding the first ever Paleo market to its long list of regular markets and fairs.
What the hell is a Paleo Diet?
Once upon a time, our ancestors lived without all the trappings of even what we would now consider ancient food production techniques — farming, preservation, cultivation and processing to name a few. The Paleo Diet promotes only foods that were available to some of our most ancient ancestors, such as wild game and fowl, fruits, vegetables, nuts and seeds — in short, foods that can be hunted, found or fished.
A strict Paleo Diet excludes all processed foods, grains, dairy, legumes, sugar, salt and oils, but start digging, and you'll find there's a big gray area of what is and isn't "allowed", creating a bit of a "pick and choose" mentality, such as the one at the Tel Aviv market.
The Tel Aviv Paleo Market
Still in search of a permanent home, the Tel Aviv Paleo Market moves from place to place around the city. Once a month, one lucky venue sprouts up with a variety of food and cooking-gadget kiosks. Booths packed with locally grown produce, nuts and nut butters, spices, honey, fruit shakes and smoothies are side-by-side with the more exotic wares like dried meats, gluten-free baked goods made with alternative flours, natural chocolate, and raw grain crackers.
Hot on the Paleo circuit
Meat
When we visited the second edition of the market in early September,  the meal of the day was meat, and a number of vendors were cooking it up on the spot, including private chef Nir Carmeli, who hosts cooking workshops at his studio in Givata'im. Although he doesn't focus on the Paleo Diet per se, his workshops teach techniques of cooking with meat and fish.
"Although I'm not strictly Paleo", he explained, "I was invited to participate in the market today, so we looked at our inventory and decided to offer a version of Israel's infamous "Jerusalem Mixed Grill (Meorav Yerushalmi)" using goose hearts and livers." Stir-fried on-site with some onion and spices, this melt-in-your-mouth "meorav" was proof enough for us that Nir knows his way around the kitchen.
Paleo dieters and other meat-eaters interested in a cooking workshop can reach him at 052-5543811 or Carmeli Nir Private Chef on Facebook.
Alcohol anyone?
The surprising sight of Buster's Brewing Co. at the Paleo market was certainly a welcome one. The alcohol restrictions of the Paleo Diet could be a real kill-joy, but Buster's provides a solution — alcoholic cider. An apple-based, fermented beverage with no added sugar, Buster's Cider is offered in a dry option of 6.7% alcohol and a sweet option of 4.8%. A seasonal blend spiced with honey, cinnamon, and cloves is heavenly, but only available on a limited basis at the end of the summer season.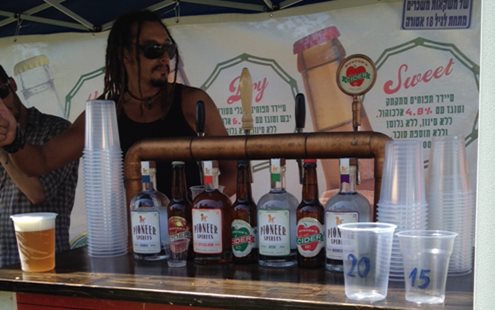 Matt Neilson, one of the founders of this family-operated business has been a regular participant in Israel's Paleo Market since its inception and clearly enjoys the friendly vibe and camaraderie; his enthusiasm is infectious. "It's really about the people", he exclaims, "and a lot of small Israeli companies base their business around this market. It's about relationships. We know these people and they often stop by our visitor's center in the Ella Valley just to say hello." Given the number of hugs and greetings that Matt received during our brief discussion, it's clear that he wasn't exaggerating the friendly, family atmosphere that exists here. It's not just about the diet; it's become a social event.
In addition to the ciders, Buster's has launched Israel's first boutique line of distilled liquor. Aptly labeled "Pioneer Spirits," the line includes Arak, Spiced Rum, Vodka, and Moonshine. 
Alternative cooking apparatus 
One of the coolest stalls of the day belonged to Shahar and Dedi of SpitFire. If you're a fan of DIY, you probably know that homemade rocket stoves are all the rage right now with no lack of instructional "how-to" videos on youtube.
These clever entrepreneurs created an ingenious, easy-to-assemble version that works just as well for camping trips and it does as a backyard grill. The frame is quickly assembled and able to support the various sizes of their custom-made cast iron woks, cooking pots, grill platters – even a druze-style pita pan. This smoke-free stove uses any kind of wood kindling to produce an efficient, controllable method of cooking. And besides all that, it looks great! As Shahar describes, "We began building them by hand, and now they are factory-produced. They're perfect for camping and four-wheeling because you don't have to travel with gas balloons. They're also great for the yard, patio, and balcony."
Check out SpitFire's ingenious design here.
Not-so Paleo
Luckily for non-dieters, Tel Aviv's market doesn't limit its offerings to the strict interpretation of Paleo, making it a welcome event for all. You'll find a generous selection of cheeses, a variety of wines and liquors and baked goods — bread, quiches and pizza, among others — made with tapioca flour rather than wheat flour.
The tapioca substitution may seem a little odd, but it reflects the ethos of the paleo movement, which is a "lesser of the evils" mentality rather than strict adherence to the diet.
Even when foods are consumed that aren't really Paleo, the idea is to make choices that are the least nutritionally harmful.
Come on down
With its welcoming vibe and variety of merchants, Israel's Paleo Market is sure to continue to draw a crowd. It's a unique way to spend an afternoon, while enjoying good food and hanging with some good people. Although the market is scheduled to be a monthly event, sometimes mother nature has other plans (the August market had to be postponed until September, for instance).
To stay up to date on when the next Paleo Market in Tel Aviv will take place, follow Meat Paleo on Facebook and check our Tel Aviv Paleo Market event page.
______________________________________________________________
About the author
Gabrielle Donati lives a life of relative ease in the great White City. She is a veteran writer, critic and all-in-all decent person, once you get to know her. A devout Pastafarian who puts an emphasis on living healthy and happy, she enjoys discovering and sharing the many little pleasures of the city.