Around Tel Aviv
September 28, 2023
Free
Every week, usually on Fridays, there area a host of special markets and fairs in locations throughout the city selling everything from fresh produce to homemade food and vintage items. 
Farmers' and Food Markets
Get fresh vegetables, cheeses, oils, baked goods, meat and more straight from the source
Tel Aviv Port
Every Friday, around 50 growers and producers set up their wares outside of Hanger 12 at the Tel Aviv Port and sell everything from fruits and vegetables to wine and beer. This is one of the most popular (and most expensive) markets in town. If you can't make it down on Friday, you can still get a taste of it at the permanent indoor market, which has wine and cheese shops, butchers, fruit and vegetable stands and even a couple restaurants. In addition to getting the freshest produce, you also contribute to the environment by shopping at the farmer's market, which forbids plastic bags (a rare sight in Israel) and only works with growers and producers who promote animal welfare and use environmentally-friendly methods.
Where: Tel Aviv Port, Tel Aviv
When: Fridays from 7:00 am to 3:00 pm
Jaffa Port
The Jaffa Port farmer's market is not as big as Tel Aviv Port's, but you can still find a fine selection of locally grown and produced goods, typically at a lower price as well. You can also take advantage of the Jaffa Port Food Market (open Monday-Saturday), home to a number of dining establishments that serve some of the freshest fish and seafood in town.
Where: Hanger 1, Jaffa Port
When: Fridays from 9:00 am to 2:00 pm
Ethnic and homemade food fair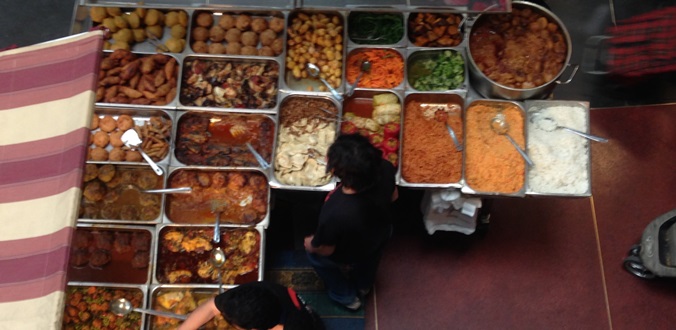 The mall isn't usually the first place you think of when you want to authentic local and exotic cuisine, but on Fridays in Tel Aviv, it should be because you can find dozens of locals at the Dizengoff Center manning food stands and selling homemade Asian, Middle Eastern, African and European dishes of all kinds.
Where: Dizengoff Center, Tel Aviv
When: Thursday from 12:00 pm to 8:00 pm and Fridays from 10:00 am to 4:00 pm
Second-Hand, Arts and Crafts and Design
Dizengoff Square Garage Sale
Everybody knows about the Jaffa Flea market, but it's not the only treasure trove of vintage items in the city. Every Friday on Dizengoff Street, there is an antique market and hoards of other stands selling second-hand books, records, old posters and paintings and plenty of other, for lack of a better word, stuff. No doubt, some of it might be classified as junk, but you can also find some diamonds in the rough there.
Where: Dizengoff Square, Tel Aviv
When: Friday mornings until the early afternoon
Dizengoff Center Fashion Fair
If you're tired of the same old fashions from big retail stores, head to Dizengoff Center on Thursday and Friday for a look at some of the unique styles of clothing, accessories and jewelry from up-and-coming Israeli designers.
Where: Dizengoff Center, Tel Aviv
When: Thursday from 12:00 pm to 8:00 pm and Fridays from 10:00 am to 4:00 pm
Nahalat Binyamin Arts and Crafts Fair
Just a few steps away from the bustling Carmel Market, you can find some of Tel Aviv's many artists displaying their unique works and products at the Nahalat Binyamin Arts and Crafts Fair. Regardless of whether or not you're interested in purchasing, it's a nice place to stroll an peruse.
Where: Nahalat Binyamin Pedestrian Street, Tel Aviv
When: Tuesdays and Fridays
Other Markets
Health Market
If you're into healthy living, then this is the market for you. In addition to vendors selling fruits, vegetables and other healthy, natural food items, there are also stalls for yoga and alternative therapies where you can get information and even treatments.
Where: Hatachana, Tel Aviv
When: Fridays from 9:00 am to 3:00 pm
Photos: Courtesy of the Tel Aviv Port; Dizengoff Food Fair — Spencer Ho
SIGN UP FOR OUR NEWSLETTER