Tel Aviv bears all the hallmarks of a vibrant destination city: an open-minded society, a legendary nightlife scene, a top-notch dining scene with something for every taste, great hotels, cultural institutions that rival those of any other city and a unique character that makes it seem like you've entered a different world.
To top it all off, Tel Aviv has warm weather and sunshine almost year round that perfectly complements its huge stretch of sandy beaches, warm Mediterranean waters and beautiful sea views.
Naturally, the city draws visitors from all over the world, but perhaps its greatest accomplishment over the past 15 years has been becoming one of the top destinations in the world for gay travelers, which culminated in the city being named the most popular destination for gay travel by gaycities.com in 2011.
The many LGBT and LGBT-friendly beaches, hotels, bars, clubs and other establishments certainly go a long way in making Tel Aviv an attractive destination for gay travelers, but those aspects of the city are actually only part of what makes the city so inviting.
And of course, you can't talk about gay travel in Tel Aviv without at least mentioning the epic Tel Aviv Pride Parade. If you think we're exaggerating, check out some steamy Pride Parade stories and read about what Pride means to actual parade-goers, and our infograph of how Tel Aviv stacks up to other Pride events around the world.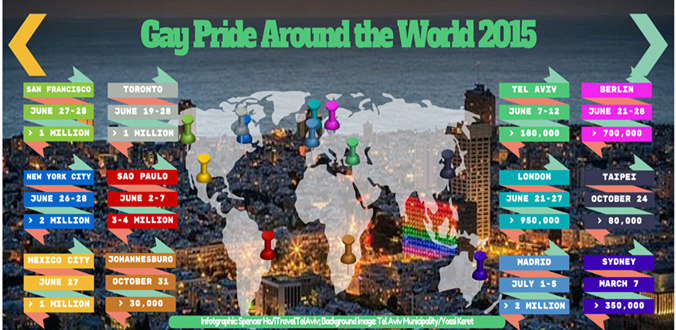 When asked what it is about the city that makes it so great, the first thing many gay travelers point to is that they simply they feel they can be themselves in Tel Aviv, whether it's checking into a hotel with their partner without any questions or holding hands on the streets without anybody looking twice, which isn't necessarily the case in other holiday destination cities throughout the world.
With that, here is an overview of some of the Tel Aviv events, bars, clubs, beaches and hotels that are most popular among and inviting to gay travelers.
Gay Pride Month
Starting the first of June, the city of Tel Aviv marks Gay Pride Month. The municipality marks the start by lighting up the front of city hall with the colors of the pride flag and partners with Tel Aviv's Gay Center to put on a slew LGBTQ-themed events throughout the month, including Pride week, the Pride Parade and TLVFest International LGBTQ Film Festival.
Pride week in mid-June is the highlight for the gay community of Tel Aviv, as members of the global LGBTQ community come from all around the world to celebrate tolerance and diversity in one of the most vibrant and exciting cities in the world.
In this week alone, there are more than 100 events planned and upwards of 200,000 participants from cities all over Israel and the rest of the world.
Tel Aviv's Gay Pride Parade is one of the most iconic examples of the heterogeneous and multi-cultural nature of the city and the central attraction of Pride Week. The parade starts at the Gan Meir near the Gay Center and commences with speeches and performances before proceeding down Ben Yehuda Street towards the shore. It concludes at seaside Charles Chlore Garden, where there is a massive outdoor party with multiple stages for music and dancing.
In the weeks leading up to Pride Week, Tel Aviv's Gay Community Center also holds other special events, such as the LGBT Culture Festival and the International LGBT Film Festival (TLVFest).
Check out the hottest events during Tel Aviv Gay Pride Month >>
Read more about the Tel Aviv Gay Pride Parade >>
Find the best Tel Aviv hotel for your gay pride week getaway >>
Beach Scene
Tel Aviv boasts a 14-kilometer (8.7-mile) stretch of coastline that features about 15 different beaches, with even more in communities just a short trip north or south of the city limits.
Within Tel Aviv, Hilton Beach has been designated, albeit unofficially, as the gay beach of Tel Aviv.  It remains ever-popular with the gay community both locally and abroad, having been rated one of the ten best in a worldwide poll.
Other beaches in Tel Aviv are known for being gay-friendly as well, including Gordon Beach, Jerusalem Beach and Gaasch Beach (nudist).  Gordon Beach hosted the Pride Parade after party up until last year, when the crowds became too large for it to hold.
During Pride Week, the beaches along the main stretch become a gathering spot for gay travelers and locals.
Nightlife
Tel Aviv's legendary nightlife is a constant party and has earned Tel Aviv its "City that never sleeps" moniker typically reserved only the most vibrant cities, like Berlin, New York City and London.
In general, all of Tel Aviv's bars, clubs and nightlife institutions are gay-friendly, but there are also numerous establishments that cater directly to the gay community, and you can find parties other events at these places every night of the week.
Check out our pages on for the best of Tel Aviv's gay bars and clubs, like Evita, Apolo, Shpagat and 17 Lounge, for more information on where and when you can find the best events and parties.
And of course, don't hesitate to go freely to any of Tel Aviv's top establishments. All are gay-friendly, and many have special nights dedicated to the gay crowd.
For instance, Tel Aviv's premiere techno club, The Block, has a gay night every Friday and Lima Bar has one every Monday. Promoters also frequently organize gay nights at other top bars and clubs, such as HaOman 17, Morfium and others.
Hotels
The vast majority of Tel Aviv hotels can be classified as gay-friendly or at the very least sensitive and aware. In essence, gay couples won't encounter a lot of confusion when you check-in with your partner, and the staff will treat them the same as any other guests.
However, there are a number of hotels in Tel Aviv that are known for being particularly popular among gay travelers.
For starters, the increasingly popular – with gay travelers and in general – Brown Hotel Tel Aviv and Brown Beach House are boutique hotels whose owners are gay and are very involved in both the local and international LGBTQ communities. Its modern and stylish design are the perfect complement for a Tel Aviv vacation, and its events in the rooftop bar are popular with sophisticated locals, tourists and expats alike. The Alexander Hotel near the Tel Aviv Port also markets itself to the LGBTQ travelers, including special promotions for Tel Aviv Gay Pride.
If you're looking to stay in hotels close to gay hotspots in Tel Aviv, check out hotels on the main drag of the beach or city hotels near Rothschild Boulevard.
There is also the fairly new Pink House TLV, which is the first guesthouse in Tel Aviv that is gay-owned and caters specifically to gay travelers. While it is a small establishment with only 4 rooms, it has a central location in the authentic Yemenite Quarter neighborhood that is only minutes away from the center of the city's gay nightlife.
The same owners also operate a separate property that offers dormitory accommodation and a townhouse with private apartments for rent.
Resources
On the off-chance you can't find all the information you need on iTravelTelAviv, Gay Tel Aviv Guide and Tel Aviv Gay Vibe are useful resources for information on the local scene and Gay Way TLV has a helpful index of gay-friendly hotels.
Photos: Courtesy of Brown Hotel; Tel Aviv Municipality/Kfir Sivan, Yossi Keret, Kfir Bolotin