By: Spencer Ho
Israel is a wine paradise – period.
That said, it's full of trappings. Obviously, if you're a wine aficionado, you probably won't have to worry because you'll probably be throwing your budget out the window, going to classy shops and studying every label like it's your bible (or Necronomicon, if that's what you're into).
But if you're an average wine-drinker, you're playing with fire, searching for wines that fit into your budget, but won't make you gag. In your excitement at finding the right price, you might miss those small details on the label that would have told you that the price is right because it's barely fit for consumption by an upstanding citizen such as yourself. .
In fact, even a wine expert could be thrown off if they've been driven by desperation to the local shop by the hotel where nobody speaks a word of English or doesn't particularly care if you get a good bottle of wine.
So, it's really a universal issue, but thankfully, we have some experience in the matter through trial, error and observation, and we're more than happy to pass along our hard-learned lessons.
We'll start with some general advice, but make sure you stick around at the end for an important public service announcement.
Wine-Buying Words to the Wise
Go Native
Don't get distracted by those wines from Chile, South Africa or Australia. They may occasionally be less expensive (especially in restaurants), but they aren't going to give you the experience of tasting the many sides of Israeli winemaking.
Particularly popular and well-executed these days are light and fruity whites and roses that pair perfectly with the Mediterranean climate and cuisine.
Fend off the sticker-shock
Wine prices here may seem expensive at first glance, but if you do the math and take into account the quality you're getting, it's really not so bad. First of all, the good Israeli wines start at around 30 NIS ($7), which is the same you would pay in the US for a second-rate, mass-produced wine and similar to the European price for a decent vintage. Second, there's almost always a deal.
Check out those deals!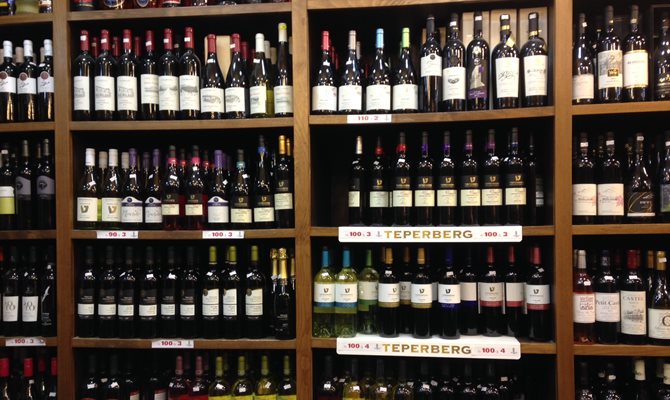 Just about every wine shop in Israel has 2, 3, and 4 bottles for 100 NIS ($25) deals, which allow you to save a little bit of money while still getting some variety in your diet.
That's why I would generally suggest going with the "3 for 100." It's the ideal balance of quality and quantity.
The "4 for 100" selection is usually a little dicey, so if you've got even a little bit of wine snob in you, it's probably best to stay away from. The "2 for 100" gets you better wines, but you're sacrificing a bit of variety.
Meanwhile, a lot of wines that full under the purview of the "3 for 100"deal are just as good as those in the "2 for 100" bracket; plus you never know when that 3rd bottle might be the best one.
Treat yourself
The midrange wines you get on offer are great, but even if you aren't a wine snob, you can taste the difference when you step up a rung. That tartness and acidity will be tempered and properly balanced with all the other elements, and getting drunk will become but an afterthought.
I'm not saying go out and spend 150 NIS ($35) on a bottle, but 70-90 NIS could be worth your while just to try something truly unique to Israel get a sense of why Israeli wine-making has gotten so many accolades recently.
Ask yourself this: How often are you really going to have a chance to drink a wine made with grapes grown in the desert?
Or a wine made from grapes that haven't been used in 1,800 years?
You only live once, right?
Study those labels
For all its wine prowess, Israel is also home to a large cross-section of society that loves sweet and semi-dry wines, such as the ignominious and sometimes misleading Emerald Riesling, a spinoff of the storied Riesling that doesn't quite match up in taste or quality. It's actually more like a Gewürztraminer, only worse.
If you accidentally bought a bottle of the semi-dry Emerald Riesling while trying to buy a dry white, you would not be the first and certainly won't be the last. I've seen many a night ruined by this tragedy.
Many Israelis also use a sweet or semi-dry red wine for Friday night meal traditions. Mistakenly buying this instead of a good red is less common than the Emerald Riesling phenomenon, but twice as tragic.
The good news is that almost all Israeli wines are labeled in English as "sweet," "semi-dry" or "dry," and you can almost always spot the sweet or semi-dry red wines from a mile away by their clear glass bottle and screw-top.
Beach > Ritzy wine bar
I'm not denying that there's a certain charm to enjoying a fine glass of wine in an intimate, warm wine bar with a sommelier at your beck and call to tell you what you should drink next, but when you're paying at least 40 NIS per glass, there's only so far you can go. And in Tel Aviv, you already have the best free place in the world to taste your haul from the local wine shop. It's called the beach.
If you're a white wino, this can be a challenge, but if you aren't too fussy you can buy a bag of ice and rig your bag as a makeshift cooler.
Find the right pairing
Believe it or not, even if you're eating the lowliest street food in Tel Aviv, there's an appropriate wine pairing. 
Find out which wines go best with hummus, falafel, shakshuka and more >>