Unless you're a bonafide, uppper-crust 1-percenter, you've probably spent a night or two enjoying some cost-effective, yet delicious local food in your hostel or hotel room. And if you're anything like us, as long as you're saving money on food, you might as well make up the difference by splurging on some wine. Unfortunately, there isn't a lot of literature out there dealing with how to pair wine with regular people food, so we turned to the owner of one of Israel's most successful wineries.
Alex Haruni is the owner of Dalton Winery, which produces over 800,000 bottles annually and distributes all over the world. Obviously, pairing wine with shawarma or falafel isn't one of his daily worries, but he was kind enough to put himself in our shoes for a little while to help us better enjoy our Israeli food and wine.
We also solicited the advice of a local wine afficionado to provide some independent suggestions.
Anyway… on to the main event!
Brunch is probably the most important Israeli weekend tradition since Shabbat. What wine would you pair with shakshuka for a Friday brunch?
Personally for me Friday brunch with shakshuka deserves a Bloody Mary, but as this is about wine then the next best is a good sparkling wine, straight or in a cocktail. Israel has been plagued by a flood of sub standard Cavas in recent years so try to trade up to something decent. Remember it is a fairly accurate rule of thumb in the wine industry that you get what you pay for.
Editor's note: If you want a dry sparkling wine made using the traditional French method, it could cost you a pretty penny, but Carmel Private Collection Brut and Tabor 562 are quality options in the 30-40 NIS range per bottle.
It's good to hear we've been doing something right all these years, even if unknowingly.
A lot of people come here on business and inevitably have to do a little work from their hotel room. What wine would you go with if you were snacking on some Bamba while working from home?
Again, here you would probably want a beer but if we are looking for something light and easy then a nice Rose or Sauvignon Blanc would fit the bill nicely.
Expert's Pick: Galil rose (more tart) or Ramat Negev (softer)
Editor's note: Bamba is by far the most popular Israeli snack food. It tastes a bit like peanut better and more or less disintegrates the second it touches your tongue. On the wine front, Rose is all the rage in Israel these days. You shouldn't have any trouble finding a nice one for a decent price, including the entry-level Dalton Rose.
What wine would you pair with a lunchtime falafel or shwarma?
The danger with spicy food is that it tends to overpower wines and reds in particular. Here is would go with a nice semi-dry aromatic wine. The Dalton white Canaan would fit the bill perfectly.
Editor's note: We love our wines bone-dry usually, but don't sleep on this one. Even though they call it semi-dry, it's not Emerald Riesling semi-dry. A blend of  Sauvignon Blanc, Chardonnay and White Riesling grapes, Dalton White Canaan skews much drier.
What's the best wine for those meals where you just grab some hummus and bread because somehow you're not only too lazy to cook, but also to pick up the phone and order delivery?
If you are keeping clear of the kitchen then spoil yourself and open a bottle of Champagne. I am reliably informed that the the pairing is magical.
Editor's note: There are only a handful of Israeli sparkling wines made using the traditional Champagne method. Gamla Brut is the most affordable — ~65 NIS — and a tasty choice.
What's your wine of choice for those cold winter days/nights that call for a nice kubeh soup?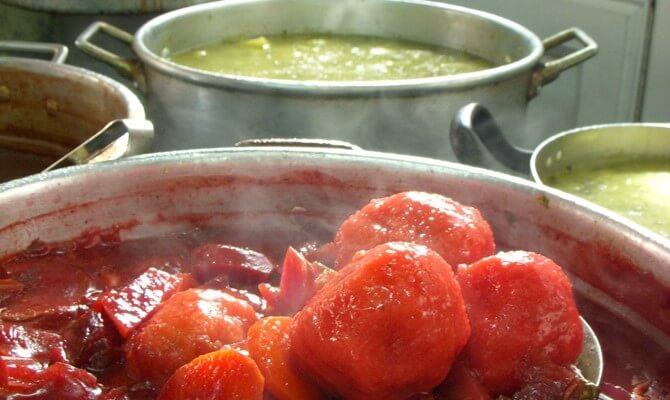 A nice hearty wine would be something like a Cabernet or a Shiraz. Israel makes some fabulous Shiraz's, Dalton makes several to fit all pockets.
Expert's pick: UGAV Shiraz (Jerusalem Wineries) or Barkan Reserve are some other good choices that won't be too hard on the wallet.
Seeing as it's Hanukkah, which wine would you pull out if you were skipping an actual meal and just eating a sufganiya… or 2?
For a nice light sparkly wine to go with your Hannukah treats you can't miss with a good moscato.
Editor's note: We don't like moscato, but we're also not the experts here.
This isn't particularly Israeli, but there are plenty of good burger joints in Israel and I've yet to find the right wine to go with a hamburger. What would you choose?
I think a hamburger with the mix of salad meat and a bun deserves a Cabernet based blend. A good Bordeaux style blend with Cabernet and Merlot should fit the bill. We have one in our Alma series.
Expert's pick: Dalton's Canaan Adom remains the most rich-bodied bang for buck to my mind
Editor's note: While the Alma is certainly delicious, some might certainly find it a little on the expensive side. At the entry level, we're also fans of the Recanati Yasmin red blend. It's commercial, but easy on the taste buds. If you can find them, Golan Indigo and the Cab-Merlot blend from Jerusalem Winery are also good options in the 30 NIS range.
What bottle do you reach for if you're feeling particularly health-conscious and sticking to Israeli salads and olives for dinner?
Probably mineral water, wines tend not to pair well with salads, the acid from the dressing tends to clash with the wine. If a wine is essential try a higher acid white, possibly Sauvignon Blanc that will also go surprisingly well with many cheeses.
What's the appropriate dessert wine pairing for Knafe and/or Halva?
These are two super sweet desserts, a sweet stickie would probably be able to match the sweetness of the dessert, a nice tawny port or a good liqueur Muscat are probably just the ticket.
What wine would you take if you've been invited over for dinner by Israeli friends, but have no idea what's on the menu?
Something nice that they will appreciate if it pairs well with the meal or think of you fondly when they open it some time later because it didn't match at the time.
Editor's note: We're huge fans of the Mony Columbard. It's a dry white with a nice acidity level and an almost buttery finish that goes well with everything, including itself. Typically available at 3 for 100 NIS, the price is also quite right.
What's the best Israeli wine for a late date night where wine is the only menu item?
This is an evening where the only thing that should stand alone is the wine. It would be better to splash out on something a little better than usual, many wines can hide their foibles behind a nice meal, so when no food is involved then something better and perhaps even thought provoking should be served, it will aid the conversation and enhance the chemistry.
Editor's note: If you're not paying for dinner you can splurge a bit on wine. If you want something truly special and Israeli, seek out the Recanati Marawi, made from indigenous Israeli grapes that have been resurrected after about 1,800 years of dormancy. There's no guarantee you'll find it, but if you see it, snatch it up.
Wine from grapes grown in the desert is another uniquely Israeli wine trend. It'll set you back a bit, Ramat Hanegev winery is one of the few desert wineries that makes red, white and rose, and they are all delicious.
Featured photo: Courtesy of Dalton Winery