By: Nechama Winston
Maya Gelfman is one of the most exciting and notorious members of Tel Aviv's street art scene, known widely for her technique of drawing with wool on walls to create energetic compositions of flocks of black birds or hearts. Even if you're not in Tel Aviv, you can find Maya's art in cities across 5 continents from North American and South America to Europe, Asia and Africa.
In case you missed part 1 of our interview with Maya, she told us why she thinks Tel Aviv is special and how it compares to her experiences as an artist in other cities. In this installment, we tried to get a little bit deeper into the mind of the artist, to learn more about Maya's artistic process and development and how she experiences the differences between working in the studio and working on the streets.
How did you get from galleries and museums to street art?
I first put works in public space in 2009. By then, I was already exhibiting works in museums and galleries, so for me it was another way to engage with art, or so I thought. It was meant to be a specific act, derived from a series of drawings called "Red Heart," but I fell in love with the immediacy and direct contact with the people that the streets offered. Ever since that day, I stay active outside, as well as inside the "white-cubes."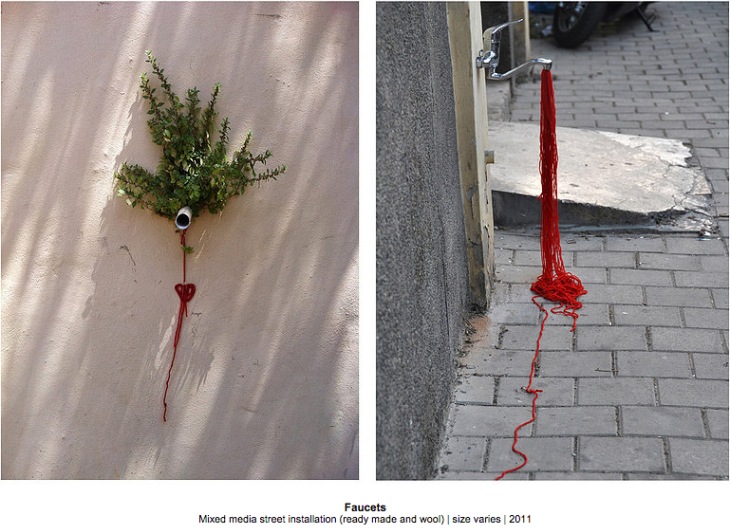 The red hearts became a signature sign of mine, and the ongoing project "Mind The Heart/Simu Lev," which has reached many cities across five continents. In the past couple of years I started another street project called BlackBirds, which will also be exhibited among other artworks of mine at the Israel Museum of Art in Jerusalem. The project was also shortlisted to the 2015 Kobe Biennial in Japan and in 2016 will be traveling to the USA.
The streets seem like a world apart from galleries and museums.
Of course. There is big difference between working in museums and galleries and working in public spaces. The "white cubes" enable a slow, complex process. The clean and quiet space can accommodate intricate and large pieces that need time to be read and contained.
When I'm doing street art, I'm more aware of the need to be quick about it. There is something very casual and welcoming about the way the city and its residents accept my work. I feel very much at home in the street context. Also, artistically speaking, it keeps me on my toes, by raising theoretical and technical questions that broaden my way of thinking. I find myself looking for ways to translate the subjects and materials with which I work in the studio to a public context – facing the non-sterile, noisy, dense reality it presents. The solutions I find open my mind and my eyes. 
How would you describe your work on the streets?
My street art is usually delicate and minimalistic, even fragile. I use materials such as yarn to create "one off" site-specific pieces. I don't try to "take over" a wall and mark my territory, but rather to explore the option of integration with the urban fabric. My works deal with the most basic of human questions: self-identity, and the struggle with inhibitions, hope, love, pain, fear. I try and reconcile conflicts and contradictions and ask how these gaps can become a source of strength.
I believe that the environment has an important impact on a work while it is being created. For me, the notion that a creation stems from the inside is only partial. When I create I have a distinct feeling that there is something beyond me, a life force, which I can't put into words but I can channel into art. That is why I always try to be open and in the moment, to absorb the specific time, day and atmosphere and I strive to reflect that in the piece.
Specifically in public spaces, I aim to enhance awareness to the beauty and magic around us – to use a kind of chaotic serenity that transcends the mundane, purposeful aspect of the city life, and leaves a trail of meaningful frames and moments.
The street environment is very fluid. The setting is different every time you go out. How do you make color and composition choices when you're out there?
First and foremost, my choices are intuitive. I act upon my instincts. When ideas come to me, I see fragments and visions and have this ebbing sensation of how something abstract starts to materialize into a tangible form.
So when I work in the studio and have uninterrupted time and space, I can allow myself to be completely immersed in that meditative process of laying out layers of emotions, motions, half formed concepts, afterthoughts and vice-versa. The final image reflects a plunging into a deep sea or walking through a waking dream, while keeping consciousness hanging a few inches above the ground – a simultaneous sense of vertigo and stability.
But when I put a work on the street, this process happens so much quicker. Also, I've discovered randomness to be a tool as valid as a paintbrush and a pallet of colors. I go out and about slowly, trying to get the vibe of the place and when something makes me stop, I do. Then I ask myself what was it that made me stop, and what do I want to do with it? Of course, I have a certain context and a frame of work, which are the elements and materials I've brought with me, but sometimes I go home with a new work brewing to come back again with the stuff I need to create it.
I take into consideration the architectural composition of the street. The wall is my canvas but it's also a setting, so I inspect the colors and textures of the buildings, the height and shades of the trees, the presence of electric wires that cut through the frame and so on. I choose my color scheme and the type of elements according to them. For example, a shoebox lid with a complementary color, or with a texture that blends in, which means the playing of lights and how shadows reveal it.
Can you explain more about the types of theoretical and technical questions that broaden your way of thinking? 
Let's say I'm working on a subject or a technique and I try to expand it. The subject gets divided and examined to fit these two different yet similar worlds – the gallery space and the public space. This process comes with a set of boundaries, which I set, then follow and break at the same time.
For instance, if the work is to be exhibited in a gallery, it allows me to create a work that requires a deeper level of abstract thought and nuances that will demand the viewer to be more available and invested in order to experience it fully. In the street, I'll try to extract the essence of an idea in order to convey a message that is more directly present or graphic.
While I mostly work with the same materials for street art as well, I use them differently so that they can stand the tests of time and the changing seasons.
You travel all over the world for your art. Do you ever collaborate with other artists?
Actually, I'm more of a "lone wolf" and don't work with others that often. I think it has to do with feeling responsible for every stroke I make. Even in projects that take me month to complete I strive to be conscious of every move or line – it is more in a way of being one with what I do – a kind of mindset and physical state of abstract awareness, feeling the flow from myself to the work, and back. 
Some examples of this are the installations Wings and Shell. Creating them demanded long periods of so called technical work, tying more than 300,000 strings of red yarn to an iron net, all the while aiming to feel every knot. Day in and day out, I used "tricks" of breathing and meditating through out the processes in order to stay in the moment and to not drift into automatic working.
Having said that, the street artwork teaches me a lot about letting go. The times that I do collaborate are challenging and exciting for me. Merging perspectives and agendas make a counter point to the habit of being solely in charge of a piece. I get to influence as well as be influenced.
Can you tell us about one of your collaborative experiences?
A funny story: In one of my collaborations, I convinced my partner to work in broad daylight. I usually do and it always proves to be a pleasant experience, not to mention the benefits of seeing what you are doing.
One Saturday morning, we set out to work. Passers-by started stopping, talking to us, complimenting or making comments, taking pictures, etc. I was used to it and tried to greet each person or answer his or her questions, but my colleague became more and more edgy and ready to make a run for it. 
But as time went by and the work progressed well, it became obvious that no one meant to harm us or call the authorities – it was just plain curiosity, which also meant that the work was having an effect on people. My partner relaxed and opened up, and I think that being able to share the experience of first-hand reactions to our work made this so much more amazing and meaningful for both of us. 
A lot of street artists have special signatures or street names. What's yours?
As for my street name, it's just my name. I refrain from putting labels on myself and my work. I'm an artist who exhibits works at different locations and contexts, and I sign my name, whether it's on a gallery wall or on an abandoned lot.
___________________________________________________________________ 
About Maya Gelfman
Maya Gelfman is a graduate of Shenkar Academy, BA (B.des) in visual communication and has exhibited in five solo shows, and participated in numerous group exhibitions at Tel Aviv & Haifa Museums of Art; Herzliya Biennial; Art Basel Miami; Tama University of Art, Tokyo; and Ward Nasse Gallery, New York.
Throughout 2012, her works were exhibited at the Culture & Arts Department of Tel Aviv Municipality. In 2013, Maya was invited to speak at a TEDx talk regarding the exhibition Spark. In August 2015, she created a large installation at the 2015 KOBE Biennial, Japan, and has an upcoming exhibition at the Israel Museum, Jerusalem. Her work has been published in print and online magazines, films and TV networks.
About the Author
Nechama Winston is a photographer and assistant curator who graduated with a double major in art history and behavioral neuroscience from CUNY Hunter College. As an avid people watcher and observer she loves to get lost in the traffic of commuters on city streets, in narrow alleyways, and while riding on trains and buses – waiting to see what will happen and unfold. She is currently working towards her MFA at ICP-Bard, a program in advanced photographic studies at the International Center of Photography. Follow what she is up to on Instagram at @nwinston.