By: Gabrielle Donati
When you hear the words business lunch, you probably think of high-powered men and women in suits sitting down for a decadent meal way out of the average person's budget.
In Tel Aviv business lunch still means business lunch, but it's also code for a relatively affordable meal at some of Tel Aviv's finest restaurants, a chance to take in the stylish decor, impeccable service, culinary creativity inherent in these establishments.
It's a godsend for travelers who want to explore Tel Aviv's notorious fine dining scene, but don't want to break the proverbial bank. Sure, these will set you back a bit more than a falafel, but you'll still make out like a bandit. 
For those here on business, don't be fooled by the price, any of these restaurants are sure to impress your clients and colleagues.
In the spirit of wealth and abundance, we've compiled our picks for the top 5 swanky business lunches in Tel Aviv…
Mizlala
Atmosphere
The younger sibling of Chef Meir Adoni's renowned Catit, the two share a chef and an entrance, but once you enter Mizlala the difference is apparent. Where big sister Catit is all about sophistication and restraint, little sister Mizlala is playful and welcoming.
Inside Mizlala, the hustle and bustle of the city fall away in the face of the modern and minimalistic black and white decor, sleek curved bar, and high ceilings alive with the whirling blades of stark white fans. If you're looking for a chill vibe, this place exudes it.
Food
Mizlala's menu is based on inspirational fusion, and you've got two options for lunch. The regular business lunch is bread, a starter and main course for the price of the latter. And if you enjoy a little afternoon delight, you can also add a glass of wine or cocktail of the day for just 25 NIS.
If you're looking for something simpler and quicker, there's also the "Mizlala Express" menu at a fixed price of 63 NIS, with the option to add a starter for 19 NIS.
We're partial to the Asian salmon burgers with oyster sauce and the Mexican-inspired thin rib meat with tortillas and all the fixings, but why not check out the whole menu for yourself?
See Mizlala's full business lunch menu >>
Details
Where: 57 Nahalat Binyamin Street, Tel Aviv-Jaffa
When: Sunday-Thursday from 12:00 to 3:00 pm
Cost: 63-143 NIS
Abraxas North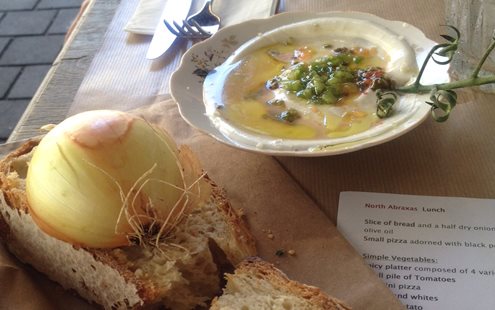 Atmosphere
From the outside, Abraxas North looks like one of those hole-in-the-wall neighborhood joints where all the locals go. It's not that it's run down or dingy, it's just unpretentious. You can enjoy the weather with outdoor seating or you can sit inside and watch the cooks work their magic in the open kitchen.
The Food
As a judge on Master Chef Israel, Chef Eyal Shani speaks so eloquently that a review of an amateur cook becomes almost poetry. Abraxas North proves he can do the same thing with food.
Abraxas gets their vegetables delivered fresh from Jerusalem and their seafood daily from local fisherman in Jaffa– you won't find a trace of frozen food. Though the menu changes daily, there are some ever-present favorites.
Roasted baby cauliflower

Mixed tomato salad

Sardine Pizza with buffalo mozzarella

Lamb chops on tomato foam

Chicken liver pasta with green onion and black pepper
You also get a lavish piece of bread made from 20-year-old starter dough and accompanied by half of a raw onion, crème fraîche, tomato seeds and diced chili pepper and olive oil. And for desert, there's pudding along with coffee or tea.
Details
Where: 40 Lilienblum Street, Tel Aviv-Jaffa
When: Sunday-Thursday from 12:00 to 4:00 pm
Cost: 85-140 NIS
Notes: Construction may make sitting outdoors uncomfortable at this time
Yakimono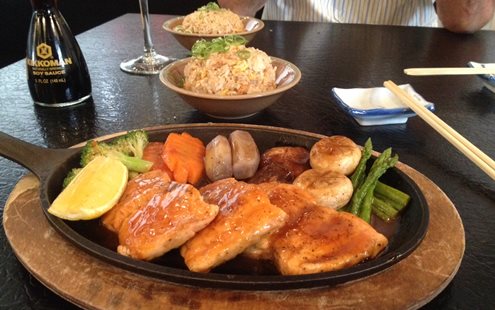 Atmosphere
Tucked inside a renovated building that once housed the US Embassy, Yakimono is surprisingly easy to miss, but it awaits those in the know. The interior is rife with sleek lines, neutral tones and open space that results in a slightly industrial, yet polished ambiance. The wall-to-wall neon bar stands out as the focal point, cutting into the room like a squared-off peninsula. It caters primarily to diners who like to watch the sushi masters in action. The service is polite and attentive, but unobtrusive and never rushed.
The Food
Offering a veritable journey to Japan with a soup, appetizer, main dish (including some sushi samplers), side dish and tea or coffee, Yakimono's business lunch is satisfying, to say the least.
Check out Yakimono's business lunch menu for yourself >>
The staff serves your choices in a steady sequence, so that the meal seemingly unfolds before your eyes. And you can clean your palette with a shot of espresso or Japanese tea and bask in the fact that you've enjoyed an authentic Japanese meal for just a tad more than you would pay for fast-food sushi.
Details
Where: 19 Rothschild Boulevard, Tel Aviv-Jaffa
When: Sunday-Thursday from 12:00 to 5:00 pm
Cost: 85-95 NIS
Herbert Samuel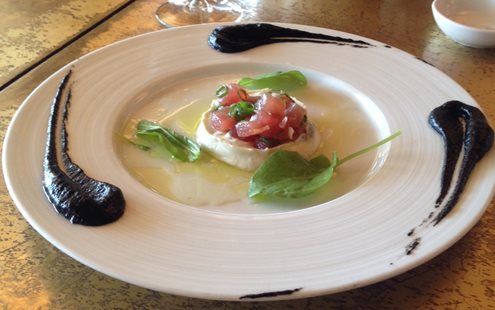 Atmosphere
Defined by a refined elegance seen in few other Tel Aviv restaurants, Chef Yonatan Roshfeld's renowned Herbert Samuel is unquestionably one of Tel Aviv's best.
The two-story glass facade offers a stunning sea view, the polished brass and champagne-tinted leatherette stools at the bar, the soft lighting and fresh flowers all scream first class.
At the same time, however, the pretense is conspicuously and pleasantly absent thanks to the constant hum of lively conversation and the staff's warm smiles and friendly demeanor.
The Food
While the atmosphere is clearly important, a glance at the goings-on in the glass-encased kitchen upstairs will tell you that the food takes a back seat to nothing at Herbert Samuel.
The menu emphasizes local meat that is aged on the premises, along with local and imported seafood and homemade bread and desserts.
A meal would typically set you back over 200 NIS, but you can get a bread course, starter and main for a fixed price of 88 NIS for business lunch during the week.
For fish-lovers, the salmon fillet in cashew glaze is almost a must. Regular diners are so enamored with it that every attempt to offer an alternate salmon dish has been vetoed. If you're partial to meat, though, stick with the veal cannelloni or risk serious regret.
Check out the full menu here >>
Details
Where: 6 Koifman Street, Tel Aviv-Jaffa
When: Sunday-Thursday from 12:00 to 3:30 pm
Cost: 88 NIS
Dallal
Atmosphere
Dining at Dallal feels a bit like crashing a high-society garden party. You enter via a patio of whitewashed brick, peppered with matching table and chair sets that immediately conjure a craving for afternoon tea and cake — only to find that the outside has followed you in as you get seated in Dallal's open-air dining corridor shaded by a striped awning in the summer and a glass ceiling in the winter.
Air conditioned sections of the restaurant are separated by an etched glass wall keeping the mood of an open space, while allowing you to dine in cool comfort. The decor is decidedly feminine, but also balanced out with wooden ceiling beams, polished stone floors, and soft brushed gold accents.
The Food
Similar to Mizlala, Dallal offers two lunch options. For those looking to keep it light, the 78 NIS option gets you two generous starters, and for the hungry, the 98 NIS option includes a starter and a main course. Word on the street is that the roasted pork belly and roasted shoulder of beef (with white bean, artichoke and bone marrow ragout and minted pea salad) are fine choices, but you can take a look at the menu and judge for yourself.
Check out Dallal's business lunch menu >>
Though not included in the fixed price, you might want to consider splurging on a one-of-a-kind dessert provided by nearby Dallal Bakery, like, say, a summer berries creme brulee.
Details
Where: 10 Shabazi Street, Tel Aviv-Jaffa
When: Sunday-Thursday from 12:00 to 6:00 pm 
Cost: 89 NIS
Special Mentions
Mul Yam
Where: Mul Yam, Hangar 24, Tel Aviv Port, Tel Aviv-Jaffa
When: Sunday-Thursday 12:30p-3:30p,
Deal: Starter and Main 180nis
Hotel Montefiore
Where: Hotel Montefiore, 36 Montefiore Street, Tel Aviv-Jaffa
When: Sunday-Thursday 12:00-5:00 pm
Deal: Appetizer, main course, small dessert and coffee for the price of main course
Messa
Where: Messa, 19 Ha'arbaa Street, Tel Aviv-Jaffa
When: Sunday-Thursday 12:00-3:30 pm
Deal: Bread, starter and main course for 98/128nis
Raphael
Where: Raphael, 87 Hayarkon Street, Tel Aviv-Jaffa
When: Sunday-Thursday from 12:00-4:00 pm
Deal: Starter and main course for 125 NIS
Zepra
Where: Zepra, 96 Yigal Alon Street, Tel Aviv-Jaffa
When: Sunday-Thursday 12:00-5:00 pm
Deal: Starter, main course and beverage for price of main course
______________________________________________________________
About the author
Gabrielle Donati lives a life of relative ease in the great White City. She is a veteran writer, critic and all-in-all decent person, once you get to know her. A devout Pastafarian who puts an emphasis on living healthy and happy, she enjoys discovering and sharing the many little pleasures of the city.