By: Ruth Nieman | Israel Good Food Guide
When the temperatures drop into the low 20′s (Celsius) and the first rain storms land in Tel Aviv, it means that winter is just around the corner. You'll notice it in Tel Aviv restaurants as well, with menus switching gears from the cool, light summer salads to piping hot winter dishes with rich sauces and large bowls of delicious pasta.
Hearty, comfort food is synonymous with the colder days and chilly nights of winter and the longing for a warming bowl of soup or a rich risotto. But of course, in Tel Aviv there's more to winter cuisine than just soup.
Seasonal produce is one of the main features of winter cuisine in Israel. Since summer is almost devoid of rain, winter produce usually includes items that would be considered summer produce elsewhere. For instance, strawberries, kiwis and baby artichokes are at their very best throughout Israel's winter months.
Naturally, the hub for all these winter delights are the Tel Aviv markets — Shuk HaCarmel, Levinsky, Sarona and Orbanic, Tel Aviv's newest and only all organic farmers market in Neve Tzedek — where anybody with a mind and passion for it can pick out their favorites.
Featured Produce: Globe Artichoke
The globe artichoke is a flavorsome thistle, rich in vitamins, minerals and thought to help lower cholesterol.
Where to find them
You'll no doubt find it in some form or another at the top of just about any restaurant menu in the city, but if you want to procure some for yourself, check the display counters of local delicatessens for plain and char-grilled hearts in extra virgin olive oil — ripe for the picking by amateur and professional chefs with big plans to create delicious dishes at home or in the restaurant.
Meanwhile, down south, one of the first farms to grow globe artichokes in Israel is Noam's Artichokes in Nir Banim close to the town of Ashdod. If you're up for the short drive from Tel Aviv, this farm, opens its doors in winter and offers guided tours revealing how they grow these beautiful vegetables. There's also a stop in their restaurant, where renowned chef Eyal Lavi (of Rokach 73) has created an artichoke-based menu for his guests, including artichoke confit and artichoke Provençal.
How to use them
With its delicate, earthy taste, a popular preparation is to cook with the flower bud, char-grilling the heart with a balsamic glaze, to create a delicious warm starter with crusty bread to mop up any juices from the pan.
For something a little more complex, try tossing pieces of chicken, artichoke hearts and baby potatoes in olive oil and lemon juice, adding fresh herbs such as oregano, rosemary or thyme. Place in an oven proof dish and put in an oven for 30-35 minutes until cooked. Take straight to the table and serve with a fresh salad…..quite delicious too!!
Featured Restaurant: Rustico
Winter is all about family and comfort food, and perhaps no cuisine embodies those 2 qualities more than Italian.
Our choice this winter is Rustico, an Italian restaurant in Tel Aviv that offers a small slice of authentic Italy– with branches on Rothschild, Basel and in the Sarona complex — where you can find some of the finest Italian food in the city.
Rustico is the place for seriously hungry foodies on the rampage for bowls of perfectly cooked pasta, homemade pizzas, cooked in stone ovens and risottos, all piping hot when served at the table. It uses high-quality seasonal and local produce in all its dishes, reflected in the taste of the food and the buzz of the restaurant. At reasonable prices, restaurants like this are always packed with diners, young and old, looking to warm up for the winter.
1 More for the Road: Strawberries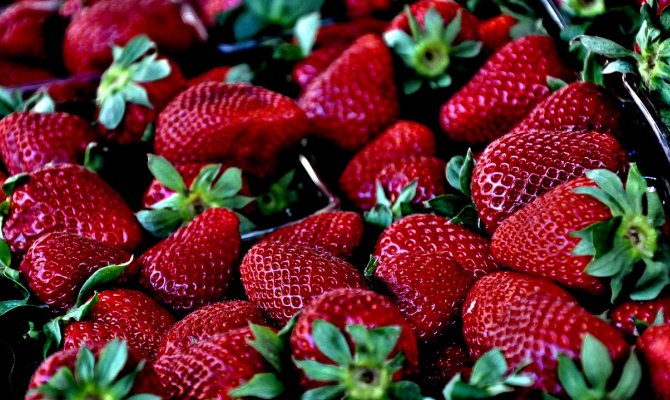 You can't beat the sweet taste of a perfectly ripe, in-season strawberry, and thankfully, this time of year the markets are full of them.
While it may be more suited for summer weather, it's best to take advantage of them while they're here. Either eat them piled high in a bowl, or go decidedly out of season and make a strawberry sundae complete with ice cream, whipped cream and chocolate sauce or roasted hazelnuts. You won't regret it.
____________________________________________________________________
About the author
Ruth Nieman is a dedicated foodie, writer, photographer and caterer specializing in Mediterranean cuisine. She currently splits her time between London and Israel, but was inspired to make food her life passion and profession by her time living and working in the kitchens  of Kibbutz Amiad in Israel 30 years ago. When she returned to London, she studied Food and Wine at Leiths School in London, and went on to start her own catering company and her own Israeli food-centric website, Israel Good Food Guide.
You can follow her and get in touch on Twitter at @israelfoodguide.
Featured image: Linneah Anders/Tel Aviv Municipality